Boys will be boys. Messy, dirty and full of beans - don't even try to contain their sprouting energy. Looking for something that will keep their attention for more than 5 minutes? A gift from Yellow Octopus could be exactly what you need buoyant, bubbly and boisterous boys. Choose from a huge range of gifts for boys of all personalities and interests.
What to buy for a boy?
When you are looking for gifts for a boy the first thing to consider is age. Try and match the right gift to the appropriate age. Our useful categories based on age will help browse by age to find the perfect gift. Whether you're hunting for an 8 year old or a 5 year old, there will be something suitable for a boy of any age.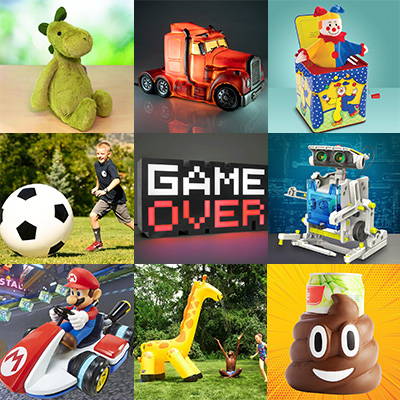 Top 10 Gifts For Boys



FUN GIFTS FOR BOYS & BIRTHDAY PRESENTS FOR BOYS
Boys and fun are synonymous. Cindy Lauper should have written her iconic song as, 'Boys just want to have fun.' And a guaranteed way to ensure that happens, is by purchasing gifts for boys that are tailor made for them.
That means when you're buying gifts for boys, don't pigeonhole them. Think a little bit outside the square and ensure the presents for boys that you buy tap into areas that charge and excite them.
That means gifts for boys can include cool games for boys, fun games for boys, party games for boys, fun things to do at home, toys for boys that they can use on their own or adventure games for boys that can be shared with their mates. And it's important to remember that boys are not one-dimensional. They are quite complex characters.
The best presents for boys may include toys for boys just like dad likes his toys. That means the cool presents for boys that you give will encourage him to use his hands. Remember how much boys, when they're little, love building things, taking things apart and putting them back together. Gifts for boys can have their enquiring minds in overdrive working how things work, but on a more mature scale. And good presents for boys that help your young man become a handyman will have long term benefits. An added bonus is these gifts for boys develop his fine motor skills, but he's so absorbed he doesn't even realise.
Some of the best presents for boys often stare you in the face. Look at who he hero worships on the sporting field and you don't have to search far and wide for the presents for boys that inspire him to fuel his boyhood dreams. Perhaps he's the next Davy Warner, Timmy Cahill or Kelly Slater. Gifts for boys that allow them to dream and dream big become such cool presents for boys that they'll give them a massive hammering. And encouraging him to be active and being part of good games for boys develops so many physical, social and emotional skills.
But the cool presents for boys may also tap into his interests or passions. Hobbies and interests shouldn't be underrated as cool presents for boys. Even if the interest is only in its infancy, presents for boys can spark a lifelong passion. And many of these include fun things to do at home. Train sets, slot car racing or delicately constructing scale models are all great kids activities for home. Or gifts for boys could introduce them to a lifetime of collecting stamps or coins. Imagine if it was the fun thing to do at home that you introduced him to that grew into a passion and ensured he continued as a lifelong learner.
Sometimes the best presents for boys can be a simple as new E books for his kindle or go traditional with hardback copies. You'll feel pretty pleased with yourself if your gifts for boys sparked the greatest gift of all, the passion for reading. And a love of reading is more than just one of the fun things to do at home. It can be done everywhere. So perhaps you were initially looking for christmas presents for boys, but by giving them a book you've given them a lifetime of freedom. And you can make them laugh by telling them that a book is right at the top of best presents for boys because you can open it again and again.
Of course gaming has to be right up there amongst cool presents for boys. Gifts for boys that allow them to use their imagination and have new experiences are big time favourites. And cool games for boys that they can play on their computer or phone allow them to play anywhere, anytime and importantly, be interactive with their mates.
Games for boys, like computer games, which provide them the opportunity to live outside the square are seen by them as unique. And every kid wants to be unique. So video games are right up there as toys for boys and an opportunity for them to chill and relax in their own world.
It's important to challenge boys and gifts for boys that do exactly that may seem a little old fashioned but they're universally timeless. On wet days, fun games for boys might be pulling out from the back of the cupboard a puzzle, a jigsaw, a magic set, a Rubik's cube or a board game. Boys love being absorbed and figuring stuff out. All of these are good games for boys because that's what they're designed to do. So these indoor games for kids will keep them occupied until the sun comes out again.
And while we're looking for fun things to do at home we shouldn't overlook that gifts for boys can tap into their creative talents. Painting, sketching, sculpting and designing all lend themselves to being an opportunity to find cool presents for boys. It shouldn't stop there either. Cooking is all the vogue, so there are gifts for boys that may be overlooked. And who are amongst the world's most famous chefs. Yep, Jamie Oliver, Gordon Ramsey and Curtis Stone,who as boys saw cooking as a fun thing to do at home.
Adventure games for boys screams out experiences. Presents for boys that allow them to take a group of mates go karting or rock climbing, trampolining or surfing will get the adrenaline pumping, the heart racing and voices whooping. So certainly consider these options amongst birthday presents for boys.
Cool games for boys and cool presents for boys can literally be cool. Beach or pool cool. Both provide another channel to find awesome gifts for boys. What's more it's timely. Just think christmas presents for boys and just add water. Boys love inflatables and they make for great party games for boys in the backyard pool. Or they can chill at the beach with mates, listening to their favorite sounds and kick back on that cracker of a towel you gave them. And definitely on the list of cool presents for boys is a beach esky. If there's one thing you've learnt by now is they're always hungry and thirsty
So the message is clear. Boys come in all shapes and sizes and so do their interests and passions. If you're doing the right thing by them you'll be searching for cool presents for boys that will truly hit the mark. Take your time. Do the research. Awesome gifts for boys are out there. And whether it's christmas presents for boys or birthday presents for boys you're after, treat it as an opportunity to spark an interest, inflame a passion, fuel a dream, open an imagination, build a skill, nurture a talent and above all, ensure they have a bundle of fun